Latest News
Fall 2017
Read SUMMER 2016 NEWSLETTER
Read SPRING 2016 NEWSLETTER
Marquam in the News!
Thanks to Jamie Hale for a great article about Marquam Park in Oregonlive, April 25, 2016: Oregonlive link
Marquam Restoration Grants
Restoration efforts are underway in Marquam Nature Park with the help of three recent grants. Most significant is a $98,500 grant from Metro through their Nature in Neighborhood (NIN) program (with another $150,000 in matching and in-kind contributions) to remove invasive English ivy and woody trees (such as laurel and holly) and replant with native plants in about 30 acres of the park. The grant funds are being shared with partnering organizations: Friends of Terwilliger and Columbia Land Trust to do similar work on adjoining properties. The target area in Marquam is in the mature conifer forests of the heavily wooded North Marquam Ravine in what is dubbed the "Sherwood to Shelter" effort; In addition, funds will be used to restore a portion of the Terwilliger Parkway to enhance the native Oregon white oak habitat that is somewhat rare to this area; as well as the mixed conifer and deciduous forest south of the park in the Columbia Land Trust's Keller Woodlands. Big changes will be seen in these areas in 2016 and 2017 as a result of this generous grant, and the Friends of Marquam Nature Park (FMNP) will play a sizeable role in carrying out. The NIN grant was preceded by two smaller grants from the Oregon Watershed Enhancement Board (OWEB) which focused on restoration of about 5.5 acres in the upper portion of the North Marquam Ravine (i.e. below the Sherwood Trailhead), and between SW Edgewood Road and SW Sherwood Drive where a number of neighbors had started early restoration efforts on their own and through the Backyard Habitat certification program. The two OWEB grants, which were completed between 2012 and 2015, totaled $19,000, and included over 800 volunteer hours to pull ivy and to replant with native trees and shrubs. Over 3,200 native plants were planted as part of the OWEB grant efforts. The OWEB grants were designed to provide a strategic and comprehensive approach to restoration, with the unique aspect of a public-private partnership that allowed for enhancing a continuous native forest on both public park land and neighboring private properties. If you would like to become involved as a volunteer in this effort, or as a neighbor to the park would like to begin restoration of your own property, please contact the FMNP at fmnp@comcast.net.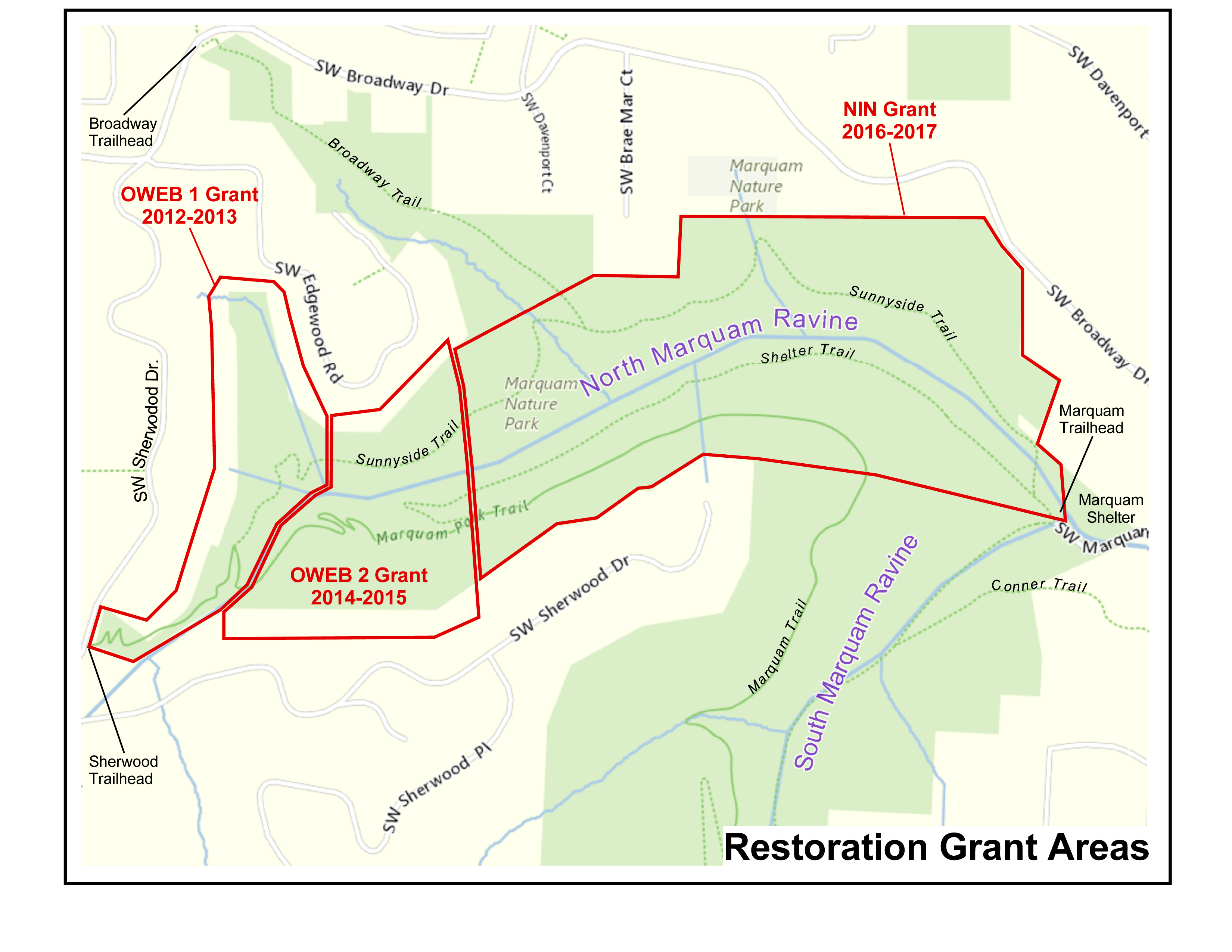 Outreach Efforts to Our Neighbors
What do you like about living near a forested area? What do you wish could be better-managed? Is there available help for watershed improvements you' d like to make on your property or the nearby park land? A grant from the West Multnomah Soil and Water Conservation District will give people living near Terwilliger Parkway and Marquam Nature Park an opportunity to answer these questions and more. We have done multiple canvassing days in different areas along the Terwilliger Parkway and Marquam Nature Park boundaries. We want to hear from you, so watch for us and share your thoughts and wishes. Friends of Terwilliger and Friends of Marquam Nature Park are leading the effort, with substantial help from several partners: the West Willamette Restoration Partnership, Columbia Land Trust's Backyard Habitat Certification Program, and the Southwest Watershed Resource Center. Our long term objective is to improve and sustain the health of our forests and watersheds. That will help both the natural plants and animals that make up the forest as well as all of us who hike, run, and otherwise enjoy these areas. Short term, we' re looking forward to learning your thoughts about our natural areas, to making connections for you to currently available programs that match your interests and time availability, and to help follow through with those connections. Connecting opportunities cover the gamut, from as simple as keeping in touch with community activities supporting local natural areas, to options for implementing specific restoration actions on public or private land. If you have any questions, or if you' re interested in helping to implement the project, contact fmnp@comcast.net . We can use help in preparing materials, providing or recruiting corporate support, joining a canvassing team, and/or helping track and analyze results.